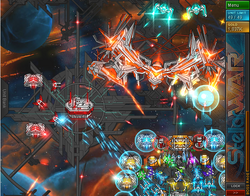 The Evil Command Base is a rare enemy that first shows up in the level Lexikon. Its abilities are difficult to understand, however it appears to be able to create evil versions of your units within a certain boundary. It also apparently tries to occasionally ram your command base, but this could easily just be an interesting graphical feature.
Possible units
Edit
Evil Barrier (Aegis/Titan Barrier)
Evil Turret (Nova Turret)
Ad blocker interference detected!
Wikia is a free-to-use site that makes money from advertising. We have a modified experience for viewers using ad blockers

Wikia is not accessible if you've made further modifications. Remove the custom ad blocker rule(s) and the page will load as expected.