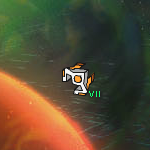 The Fion Drone is a unit in Enigmata: Stellar War. Fion Drones act as gold collectors, enabling the player to focus on other tasks. The Gold Generator upgrade allows the Fion Drone to periodically generate gold. It may be unlocked after the Nexxon Phasor for 2000 gold. Alternatively, 1-4 free Fion Drones or 2 Super Fion Drones, which do not count towards the population cap, can be acquired using Upgrade Points. Fion drones are not very fast and you can upgrade the speed with the ion boosters upgrade
A type of enemy that is similar to player drones is the Evil Fion Drone. The have a decent amount of health and fly quickly around the map, stealing any dropped gold.
Upgrade movement speed and auto heal first before the gold generator,as fion drone may not be able to survive intense damage from enemy units while collecting gold.
| Stat | Rank I | Rank II | Rank III | Rank IV | Rank V | Rank VI | Rank VII | Rank X |
| --- | --- | --- | --- | --- | --- | --- | --- | --- |
| HP | 50 | 61 | 74 | 89 | 106 | | 147 | |
Ion Booster - Improves movement speed by a percentage
Gold Generator - Periodically generates gold
Auto Heal - Periodically regenerates HP